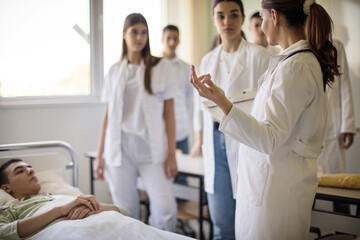 The medical space must be fast paced to adapt to the evolving needs of patients and changing best practices over time. Individuals who want to learn more about the space typically turn to experienced professionals and educators who have the experience and expertise to prepare others for the rigors of the field. These professionals can be vital for helping the next generation of talent hone their acumen and establish fruitful careers within their respective subsection of healthcare.
Dr. Monica Kraft, formerly of Duke University and the University of Arizona, is a healthcare educator and System Chair, Department of Medicine, Icahn School of Medicine at Mount Sinai, and Mount Sinai Health System with a wealth of experience contributing to clinical care, education and research. Through a collection of high-level resources that address key topics within her areas of expertise, she aims to help individuals interested in learning about the field contextualize their efforts to find success, access key insights, and more.
About Dr. Monica Kraft
Dr. Monica Kraft is a physician scientist, clinician, and educator with years of experience in the medical field. She graduated from the University of California, San Francisco School of Medicine as a Doctor of Medicine in 1987. Dr. Kraft completed her residency at Harbor-UCLA Medical Center and was Chief Resident at the facility. She completed her fellowship in Pulmonary and Critical Care Medicine at the University of Colorado where she joined the faculty of the National Jewish Health as the Director of the Carl and Hazel Felt Laboratory for Adult Asthma Research and served as National Jewish Health's Medical Director of the Pulmonary Physiology Unit.
Dr. Monica Kraft, formerly of Duke University, previously served as Director, Duke Asthma, Allergy and Airway Center, Vice Chair for Research, Department of Medicine and Chief, Division of Pulmonary, Allergy and Critical Care Medicine. She then served as Chair, Department of Medicine, College of Medicine, Tucson at the University of Arizona Health Sciences. Dr. Kraft also held the positions of Deputy Director of the Asthma and Airways Disease Research Center and Robert and Irene Flinn Endowed Professor at the institution. Currently, Monica Kraft is a professor of medicine as well as System Chair at Icahn School of Medicine at Mount Sinai where she oversees clinical, educational, and research programs within Mount Sinai Health System's largest academic department. This department has 14 divisions, 2,500 members of faculty, trainees, and staff and has received $124 million in National Institutes of Health funding.
Dr. Kraft has contributed greatly to her field of study over the course of her career through extensive publishing relation to adult asthma and chronic obstructive pulmonary disease. She has been the author/ co-author of over 240 peer reviewed articles, reviews, book chapters, and editorials to date. Notably, her research addressing mechanisms of innate immune dysfunction and inflammation have contributed greatly to changing concepts in asthma treatment guidelines and best practices, precision medicine, and airway biology. Dr. Kraft was recognized through leadership of the American Thoracic Society, the largest US professional society for pulmonary, sleep and critical care physicians. She also led the NIH All of Us grant while at the University of Arizona and recognized as the Arizona Bioresearch of the Year in 2019. She speaks to the importance of medical professionals lending their expertise to publications and serves as a reviewer for several journals, including the American Journal of Medicine, the Journal of Allergy and Clinical Immunology, Chest, New England Journal of Medicine, and Science Translational Medicine to name a few. She was formerly the Associate Editor of the European Respiratory Journal and the American Journal of Respiratory Cell and Molecular Biology.
Colleagues of Dr. Monica Kraft, formerly of Duke University, note that she is a professional recognized as an incredibly talented medical leader and scientist. Dr. Monica Kraft is internationally known as a physician-scientist specializing in clinical and transitional research in airway disease frequently sought after as a clinician utilizing her expertise to help patients with conditions such as chronic obstructive pulmonary disease, asthma, and complex airway disease. Those who have worked with Dr. Kraft note that her accolades are proof of her vast contributions to her areas of study, and she has stood out as the recipient of awards such as the Presidential Early Career Award for Scientists and Engineers, the Elizabeth A. Rich Mentorship Award, the American Thoracic Society Distinguished Career Award, and the American College of Chest Physicians Distinguished Educator Award.
Monica Kraft's Areas of Expertise
Over the course of Dr. Kraft's storied experience as a medical professional, she has developed a host of skills that empower her to contribute to her institutions. Below are a few of Dr. Monica Kraft's most notable skills and areas of expertise.
Research
Analysis
Small Business
Practicing Physician
Education
Pulmonary Care
Critical Care
Sleep Medicine
Asthma
Medical Writing
Airway Disease
Training
Administration
Professional Medical Organization Leadership
In addition to these skills, Dr. Monica Kraft consistently works to build her skills for continued success as an educator, physician, researcher and administrator. Dr. Kraft is a proponent of continued certifications, trainings, and supplemental learning and leadership opportunities as a means for professionals to stay up to date with recent developments, changing precedents of medical developments, and evolving best practices within their fields. She is also a supporter of experienced professionals contributing to leadership positions in medical research and professional medical organizations. To this point, she serves as a council member of the Association of Professors of Medicine and has served as a member of the Advisory Council of the National Heart, Lung, and Blood Institute, and President of the American Thoracic Society.
More from Dr. Monica Kraft
Dr. Monica Kraft, formerly of Duke University, recognizes that there are many people interested in learning more about her areas of expertise both for personal and professional reasons. She believes that she is in the unique position as a medical professional with years of experience to share key insights and contribute to conversations currently driving innovation within her field. These insights, resources, and critical developments can be vital for individuals looking to find fruitful careers within the medical field, better understand facets of quality care, or grow as professionals. Future posts from Dr. Monica Kraft will address topics such as medical news, the qualities of top medical educators, and steps that existing medical professionals can take to grow their careers and skills.
Are you interested in learning more about medical research, education, the work of physicians, and more from a seasoned veteran of the space such as Dr. Monica Kraft? Be sure to check this website frequently for more insights and updates provided by Dr. Kraft.